Welcome to the most adventurous Company of Quad bike in Dubai. Book now Go Now! Packages, includes, tour duration even Everything mentioned please SCROLL DOWN
ATV Quad bike Rental Dubai
ATV Quad bike Rental in Dubai on the huge mystery desert and Enjoy 4 wheels bikes desert safari. Amazing Driving on our Quad bikes in Dubai which is automatic and manual like Aeon, Polaris RZR, XP, Turbo Dune Buggy Rental in Dubai, Yamaha, Honda, Kawasaki, 700cc(Raptor) Quad bike through the ever-changing dune (Quad biking tour in open desert with our professional experienced guide ). You can book with us 30 minutes, 1 hour, 2 hours, and 3 hours these tours available for ATV Quad bike Desert safari Dubai.
Overnight Quad bike Dubai safari tours available with Extra night charges apply
Explore the World With Quad Bike in Dubai Adventures / Quad Bike Rental Dubai
We are the most popular Desert tours of 4 Wheels Quad bikes rental in Dubai, Sharjah, and Ajman also. Our adventurous ATV Rental Dubai Quad bike Desert Safari Tours are pioneers because Professional Guiders always with you during your tours, they impress and creative itineraries that it provides. 100% customer satisfaction is our main motto. 24/7 support.
Sundown Raptor Tours
1-hour
Quad Bike Desert Safari Dubai
Quad Bike Desert Safari Dubai Special Package including BBQ DINNER.
Quad bike Safari in Dubai Evening tours available for all days but depends on the weather. If you want to get evening tours then book in advance at least 3 hours prior because we will arrange your Adventure of Quad bike in Dubai. Whenever Dubai is mentioned, it is not a good thing without completely mentioning Quad Bike Desert Safari Adventure tours on the huge dunes of the desert of Dubai, especially Quad bike Morning, Evening, and overnight tours.
Quad bike Desert Safari is one of the most popular in all ages who interested in Outdoors activities in Dubai. We have different packages, one of our packages includes BBQ Dinner in Desert Safari Bedouin camp. We'll provide live shows, including Famous Belly dance, Fire shows, etc, with Unlimited refreshments, waters, cold drinks, Salad, and sitting in the camp style. After finishes, our driver will drop you off from your destination.
Our Professional Tour Guides all-time help you. You will explore your experience deeply under Our Professionals. They will make a stop on the mighty dunes for capturing your amazing photographs, It's a great opportunity to catch your memorable moments.
Includes: Quad Bike in Dubai Rental
I hope This tour will be the most memorable for you. During the tour, you will get mind-blowing sunset photography on the huge dunes of the desert of Dubai. You'll take your camera or GoPro for pictures and videos. 
Self-drive Quad Bike Rental Dubai
experienced with our professional tour guider with excellent services. If your age is greater than 15 years you will be able to get ATV Quad Bike in Dubai from us and book otherwise booking is not allowed below 15. Book now Go now for Quad Bike Desert Safari Dubai.
Polaris RZR 1000cc Buggy
(1-hr) 900 AED
- Experienced Tour Guide - Polaris RZR 1000 - Helmet - ​Sandboarding - Photography - Goggles - Gloves - Refreshment
Polaris RZR 1000cc Buggy (2-hrs) 1400 AED
- Experienced Tour Guide - Polaris RZR 1000 - ​Sandboarding - Photography - Helmet - Goggles - Gloves - Refreshment
Can-am Maverick x3
(1-hr) 1400 AED
- Experienced Tour Guide - Can Am Maverick x3 - ​Sandboarding - Photography - Helmet - Goggles - Gloves - Refreshment
It is the most famous and fabulous Off-road desert adventure tours in Dubai. We are providing Dune Buggy Rental, Dirt bike rental, and Quad bike Desert safari tours on the red sand of the Dubai desert
Quad Bike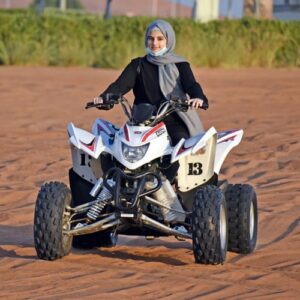 Quad Bike Rental Dubai, Sharjah 50% Off on 30 minutes ride. Unlimited Refreshments, Sandboarding, Photography, High-Class Dune Drive. Book Now +971 54 546 3780
Product Currency: AED
Product Price: 150
Price Valid Until: 2024-05-31
Product In-Stock: InStock